Dinner Show & Entertainment Suggestions...
If you're looking for exciting dinner theater shows, plays, or live entertainment in Tucson, you've come to the right place! Tucson is home to a wide range of amazing theaters that are perfect for a fun night out on the town. Or perhaps you are looking for a dine in theater in Tucson. Here are our favorites. The best shows and events in Tucson has to offer...


CARNIVAL OF ILLUSION IS A TUCSON TREASURE... An evening of old-world magic in the style of classic entertainers such as Buster Keaton, Mae West, Gypsy Rose Lee, and Harry Houdini. This show is not to be missed! Your hosts have performed as house entertainers at the world's top resorts, Fortune 100 CEOs, to the 200 Most Powerful Women in America. Carnival of Illusion is Magic, Mystery, and OOOH La La! All seats are up-close for a great view for everyone. Also included for show guests only, is a magical dining offer at the hotel restaurant, for a delicious three-course price fixed meal for two! The menu includes several wonderful choices that will be sure to top off a fabulous evening of entertainment. Shows always sell out (at least the last 250 shows in a row) so check ticket availability as soon as possible!
BROADWAY IN TUCSON offers family friendly dinner theater shows in Tucson. Making its debut in 2004, Broadway in Tucson offers exciting performances that are fun for the entire family. Past performances included The Lion King and Mamma Mia! More than 83,000 people have enjoyed the performances offered at this major Tucson facility.
Specializing in comedies and whodunits, this under 100 seat theater makes the most of its location. Shows can be in the round, though more often they're proscenium style with all seats offering a direct view. LIVE THEATRE is also home to Etcetera, their late-night arm offering more racier adult plays.
ARIZONA THEATRE COMPANY not only hosts some of the finest dinner theater shows in Tucson, but is also the state's theatre company. The plays performed here range from drama and classics to contemporary, as well as musicals and new works. The breathtaking performances are of high quality so be prepared for a night filled with excitement!
UNSCREWED COMEDY is fun, fast paced improv, where every show is different and keeps you in the local scene. The shows offered at Unscrewed Comedy provide comedians, performers and actors an outlet for their talents with electric performances you can't miss!
LAFFS TUCSON is the first and only comedy club featuring traveling comedians, open mic night, bar, full menu dinner and desserts. The diverse and talented line-up of comedians hosts shows every week, with special events this weekend in Tucson. Spending the evening at Laff's Tucson Comedy Caffe will have you gripping your sides in laughter, but be sure to leave the kids at home as you must be at least 21 years to enter!
If you're looking for a relaxed evening, check out ARIZONA FRIENDS OF CHAMBER MUSIC. This nonprofit organization offers the world's finest chamber music from contemporary to classic. A special gala dinner is offered to complete your evening.
THE CENTER FOR THE ARTS is a state-of-the-art entertainment complex, which consists of the 425-seat Proscenium Theatre, the 75-plus-seat Black Box Theatre, the 75-plus-seat Recital Hall and the Louis Carlos Bernal Gallery. The center hosts plays and performances year round!
THE FOX THEATRE FOUNDATION was incorporated in 1999 in order to return theatre to the Tucson community. The historic theatre has been fully restored to its former beauty and offers exceptional concerts and performances with national names touring through Tucson.
Part of the University of Arizona, UA PRESENTS offers world class performances, including performing arts, theatre, jazz, classical, dance and more! The full calendar of performances offered have something everyone will enjoy.
If you're looking for exceptional dinner theater shows in Tucson, you can't miss the TUCSON SYMPHONY ORCHESTRA. Each concert performed is a true work of art of the highest caliber. With more than 400 education and community engagements each year, there's an event for everyone. With rave reviews and multiple dinner partners.
Sometimes nothing but the classics will do. Ballet still stands as the foundation for dance and brings to the stage the embodiment of grace, strength and beauty. Whether you wish to see classic works or adventure into something new and innovative, BALLET ARIZONA is committed to bringing professional ballet to Tucson.
GASLIGHT THEATER is a historical Tucson dinner theater, which seats 225 and features various comedy plays with a Southwestern flair. The theater is home to many great comedians, including Tim Gilbert ("The Guy With The Eyes") and Glenda Young. The family-friendly shows offer menu items, including sodas and pizza by Little Tony's diner to make the most of your experience. This dine in theater in Tucson is a party waiting to happen.
GREAT AMERICAN PLAYHOUSE in Oro Valley is sure to be a hit with the whole family. There are plenty of hijinx to be had and laughter abounds. And if the gang is hungry, you can order food to the table and indulge in a free bag of popcorn to boot. This is the kind of evening where you leave your worries behind, relax and have some fun!
THE INVISIBLE THEATRE started in 1971 as an arena for local playwrights. The theatre has expanded its programs to include adaptations of classics and recent Off-Broadway plays and musicals. The intimate atmosphere of the theatre connects the performers to their audience by an invisible energy; hence, the theatre's name.
The TUCSON JAZZ SOCIETY is not only home to great jazz music, but dancing, auctions, dinner and great shows you won't forget. The Tucson Jazz Society strives to maintain all things jazz related, including the preservation of jazz as an art form. You won't regret stopping by to listen to the amazing jazz performers.
The BERGER PERFORMING ARTS CENTER is located on the Arizona State Schools for the Deaf and Blind campus. The center offers a variety of amazing shows for local entertainment. At the center, you'll find plays, concerts and a number of other performing arts events.
The ROGUE THEATRE is dedicated to theatre for the intellect and for the artist in all of us. While stretching and striving to provide Tucson with the highest class of theatre possible, the Rogue manages to bring a variety of top-class works to their small but powerful stage. This professional theatre company is worth a visit.
ARIZONA ONSTAGE PRODUCTIONS is a local, non-profit, professional theater company, that thrills its audiences with thought-provoking and sometimes challenging musicals. Working with University of Arizona staff and other local theater professionals, they produce award winning productions that are sure to delight.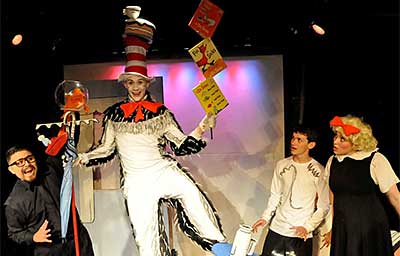 THE WAY POINT THEATRE COMPANY offers expressive and interpretive theatre arts. All performances are conducted professionally and artistically to enrich their religious faith with a blend of uniqueness. The performances are sometimes entertaining and educating.
Theater, Shows, Plays and Events in Tucson
Have fun exploring the many shows, plays and theaters in our lovely creative city we call Tucson! And if you are still looking for excitement events in Tucson this weekend or any time, check out this great list of both traditional and alternative Tucson entertainment options this weekend.
JOIN THE 18,000+ OTHERS
to get an INSTANT DISCOUNT for great entertainment and
advance notice of fabulous events!

Copyright © Tucson Dinner Theater Shows 2015