An Evening of Old-World Magic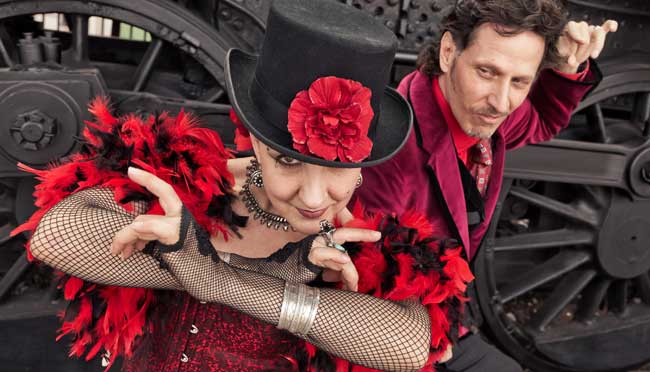 CARNIVAL OF ILLUSION IS A TUCSON TREASURE... An evening of old-world magic in the style of classic entertainers such as Buster Keaton, Mae West, Gypsy Rose Lee, and Harry Houdini. This show is not to be missed! Your hosts have performed as house entertainers at the world's top resorts, Fortune 100 CEOs, to the 200 Most Powerful Women in America. Carnival of Illusion is Magic, Mystery, and OOOH La La! All seats are up-close for a great view for everyone. Also included for show guests only, is a magical dining offer at the hotel restaurant, for a delicious three-course price fixed meal for two! The menu includes several wonderful choices that will be sure to top off a fabulous evening of entertainment. Shows always sell out (at least the last 250 shows in a row) so check ticket availability as soon as possible!

BROADWAY IN TUCSON offers family friendly dinner theater shows in Tucson. Making its debut in 2004, Broadway in Tucson offers exciting performances that are fun for the entire family. Past performances included The Lion King and Mamma Mia! More than 83,000 people have enjoyed the performances offered at this major Tucson facility.


Specializing in comedies and whodunits, this under 100 seat theater makes the most of its location. Shows can be in the round, though more often they're proscenium style with all seats offering a direct view. LIVE THEATRE is also home to Etcetera, their late-night arm offering more racier adult plays.


ARIZONA THEATRE COMPANY not only hosts some of the finest dinner theater shows in Tucson, but is also the state's theatre company. The plays performed here range from drama and classics to contemporary, as well as musicals and new works. The breathtaking performances are of high quality so be prepared for a night filled with excitement!


UNSCREWED COMEDY is fun, fast paced improv, where every show is different and keeps you in the local scene. The shows offered at Unscrewed Comedy provide comedians, performers and actors an outlet for their talents with electric performances you can't miss!


LAFFS TUCSON is the first and only comedy club featuring traveling comedians, open mic night, bar, full menu dinner and desserts. The diverse and talented line-up of comedians hosts shows every week, with special events this weekend in Tucson. Spending the evening at Laff's Tucson Comedy Caffe will have you gripping your sides in laughter, but be sure to leave the kids at home as you must be at least 21 years to enter!